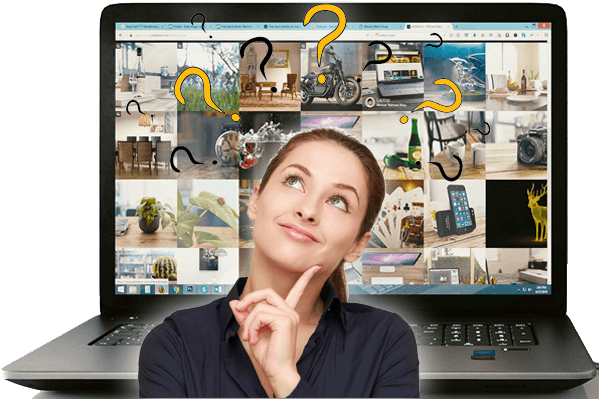 How much is a website?
You'd be surprised how many times we've been asked that.
That's why it's important we discuss what kind of website you want, so we can help you answer that question. Then we apply some basic budget-building rates (below) and along with you, determine a budget that will best suit the project.
But I just want something simple...
We hear that a lot too. Simple. Easy. What's simple for some of your customers may not be what's simple for others, or easy for you or us, for that matter. These subjective terms can be hard to pin down with a "simple" answer. Give us an opportunity to discuss your project before we blurt out some number.

Let's all get on the same page (so to speak). We want to be sure both your and our perspectives are the same.
Some things we'll need to know:
What is the goal of your website? Who is your audience? Will your site be a brochure site - one that is made up of pages of text, graphics and photos, just like the pages of a brochure? Will it be an eCommerce site where you'll be creating catalogs of products to sell, taking orders and payments, emailing out receipts automatically, and producing sales reports? Big differences!
What else do you want your site to do? What materials do you currently have and what more will you need? All these effect your project budget. It also helps to know what you plan on investing in a website. Then, we can determine which options would work for you. If you have a very limited budget we provide in-store workshops and pro-assistance options as our most economical solutions to your project, as long as you are willing to roll up your sleeves and work one-on-one with us in 15 minutes to 2 hour sessions.
Our approach to your project:
We first start with a Free 30 Minute Consultation, by appointment. We can meet in-person, on the phone while everyone is online, as well as via video chat. That's how we'll be able to determine what your needs will be. We'll talk with you about your website project and offer up how we can help you achieve your goals.
Schedule your FREE consultation during normal hours 9:00-4:00 Monday-Friday. We will determine the best way to get together: in-person, on the phone (while online), or via video call. Come with your ideas, the materials you have as content, and perhaps some examples of the look or functionality you are after - basically all the things you need to "show and tell" us what you want.
From there, we'll be able to get an idea of what kind of site you are looking for and how much time we'll need to spend building your website using your content as well as creating content of our own so your site gets built to your specifications. We consider how the site will become part of your business. We'll build a website that fits your business, automating as little or as much as you want, freeing up your time to do the things you want or need to do. We'll even manage your website for you, making changes when you need them - many times free of charge when hosted with us. We can also train you or others to manage the site in our How-To Workshops.
Other things to consider while determining your budget.
$15 per 15 minutes Pro-Assist
Sometimes all you need is a little help with a particular task. We offer quick fixes, one-on-one instruction, advice or opinions, graphics, photo editing, and other web-related assistance. We bill in 15 minute increments while helping many people who just needed a hand.
$330/yr or $35/mo Optional Hosting
Although many of our clients host with us, you may also choose to host elsewhere. We can help either way! We choose not to compete with the budget hosting companies or the huge hosting clearing houses you will find on the internet. Our hosting pricing is $27.50-$35 per month per domain with name registrations $35 extra if applicable. Email boxes are not included but can be added for an additional charge. We will provide email forwarding to your existing email addresses at no charge.
Our hosted clients like sending over site updates for us do them for them - most times for FREE.
Hosting includes FREE periodic updates - tasks under 15 minutes. This FREE professional assistance works just great for quick updates, adding text, photos, or just about anything we can do for you in 15 minutes. It is important to keep your site up-to-date, especially if you are looking for good search engine placement as well as providing your visitors with the most up to date information.
Please keep this in mind, our time is valuable to our clients as well as to ourselves. That is why we do not "bid" work. Instead, we work with our clients to develop a project budget using our standard rates (above). Even if you have an extensive Request for Proposal (RFP), you would be asking us to spend our own time to professionally evaluate your project plan, determine all the time necessary to build your project, and produce a definitive cost - essentially building the project "on paper" first and seeing if it meets the client's unknown budget expectations. We don't operate that way. Our experience in these scenarios has been that most times a bid is won by the "lowest bidder". The cheapest is not always the best.

In our over two-decade history, most all our work has been negotiated with repeat, referral clients, and those clients who are serious enough to meet with us to discuss their projects. Our clients understand we become part of their team rather than just a pricing mechanism. They prefer our honest working relationship and our personal support.
If you have any questions regarding our bidding policy please contact us at 916-944-2299.