How the Internet Cafe works:
Guests rent the computer time they need: 15 minutes minimum for short sessions or SAVE Money with our discount hour cards that give you 15 minutes FREE for each hour you buy.
CURRENT HOURS: 9am to 4pm Monday - Friday. Always good to call ahead first to be sure we are available.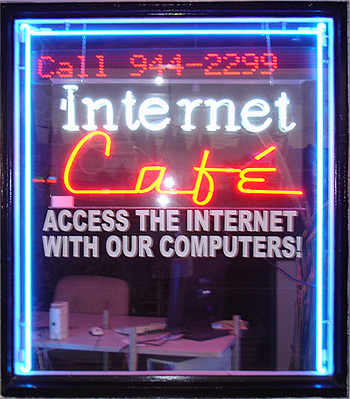 An Internet Cafe is the Sacramento Area's only internet cafe that serves up traditional internet services on our computers.
Surf the web at lightning speed
Check your email
PRINT either black & white or color
Scan photos and documents
Work on your website
Webcam for Skype and chat
"How To" instructional workshops
Pro-Assistance help
Internet Cafe Access Using Our Computers*
$2.50 per 15 minutes.
FREE 15 Minutes w/ea. hour purchased
Plus other discounts!
Why An Internet Cafe?
Unlike many "cyber cafes" where only wifi internet access is there for you to buy food or coffee, An Internet Cafe is a traditional internet cafe - one that doesn't serve food, but one that provides computers for you to access the internet.

An Internet Cafe is an ideal spot for people on the go that need access to a computer, like telecommuters, self-employed business owners, tourists, students and just about anyone looking for computer to use. Computer in the shop? Is your internet connect down? Can't do everything from your phone? We're here for you when you need a computer with internet access. Printing and copies available.

Type a resume on a word processor; scan or print photos and documents; design a website or create a brochure. An Internet Cafe provides the computers, the latest technology and software as well as a friendly and knowledgeable staff to help our guests get their tasks done quickly and efficiently.
Please note: We do not allow gaming. This is a business environment and our work stations are for those willing to respect other guests who are also using the computers.
* No public wi-fi available. For security purposes we do not permit outside programs or hardware to be installed.